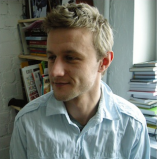 Vasyl Cherepanyn (b.1988) is head of the Visual Culture Research Center and an editor of the Political Critique magazine (Ukrainian edition). He works as a senior lecturer at the Cultural Studies Department of the National University of Kyiv-Mohyla Academy and holds a Ph.D. in philosophy (specialisation – aesthetics). He has also worked as a guest lecturer at the Institute for Advanced Studies of the Political Critique in Warsaw, Poland and the Krupp Wissenschaftskolleg Greifswald of the Greifswald University, Germany.
Visual Culture Research Center was founded in 2008 as a platform for collaboration between academic, artistic, and activist communities. VCRC is an independent initiative, which is engaged in publishing and artistic activities, scientific research, organization of public lectures, discussions and conferences. In 2015 Visual Culture Research Center received the European Cultural Foundation's Princess Margaret Award.
External link:
Between Revolution and War: Art and Society in Contemporary Ukraine
Vasyl Cherepanyn is an Artists at Risk (AR) Resident, hosted in cooperation with HIAP at AR-Safe Haven Helsinki. The AR-Network is curated by Perpetuum Mobile (PM) and is coordinated by the AR-Secretariat, co-funded by Kone Foundation. This residency is funded by Nordic Culture Point.