Erkan Özgen is an artist, teacher and ecological activist from Diyarbakir (Amed), Eastern Turkey.
Related:
AR PAVILION, Athens
MOBILE TALK by Erkan Özgen/ Documentation
The PLURIversity (faculty of PLURIecology)
Erkan Özgen: Artist talk on the 19th July 2016
Erkan Özgen coming to AR-Safe Haven Helsink
AR PAVILION – COLLATERAL II Madrid at MATADERO,  (DOCUMENTATION)
Exhibition booklet – AR PAVILION, Madrid

AR-Resident of
AR-Safe Haven Helsinki Residency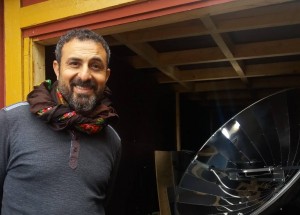 BIO / BACKGROUND
Erkan Özgen is a an artist with an international record of exhibitions. First curated outside of Turkey by the likes of Harald Szemann, Rene Bloch and Galit Eilat, his work has been on display at major museums and venues.
Born into a Kurdish family in Derik, Mardin province,Turkey, in 1971, he graduated from the Department of Art Education, Cukurova University in 2000. Özgen made his first mark on the Turkish art world in 1998 with the exhibition "Young Activities". Since then he has been part of exhibitions and events in Albania, Austria, Croatia, Cyprus, Estonia, France, Finland, Germany, Iran, Italy, Israel, Lebanon, Montenegro, The Netherlands, Slovenia, Spain, Sweden, Switzerland, Turkey, Austria, the United Kingdom and the USA. Özgen has also given workshops in Kobane (Syria), Beirut and Damascus among many other places. Erkan Özgen received the "Prix Meuly" from the Kunstmuseum Thun, Switzerland in 2005. Parallel to his artistic work Erkan is a teacher and a part of the Mesopotamian Ecology Movement.
Erkan Özgen was a resident of AR-Safe Haven Helsinki  in summer 2016.
http://erkan-ozgen.blogspot.gr/
Website: http://erkan-ozgen.blogspot.gr/