We are very pleased to announce that Baran Çağinli has taken up residency as our first Artists at Risk AR–Saari Residence /Saastamoinen Foundation Resident in Mynamäki (October – December) and Helsinki (January).
Residencies:
AR – Sareen Kartano/Saastamoinen Foundation
Baran Çağinli is a contemporary artist based in Ankara. His work was recently exhibited by PM at the AR Pavilion – Madrid ("Collateral II") at Matadero.
Events/Participation:
AR PAVILION – COLLATERAL II Madrid at MATADERO
DOCUMENTATION – Installation shots AR PAVILION-Madrid
Exhibition booklet – AR PAVILION
AR PAVILION HELSINKI – MASS MEMORY MACHINES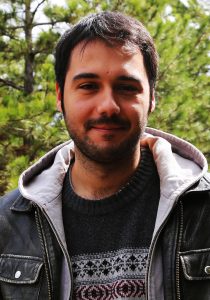 Baran Çağinli, born in Istanbul in 1990, is a contemporary artist currently based in Ankara. His art brings together several disciplines and societal themes. Addressing governmental/civic relations and related conflicts of power, identity issues such as ethnic discrimination, forced migration and forced disappearances, his work tests the limits of the possible in a repressive society.
The objects and people included and used in his works are often witnesses to an incident. Although these witnesses are shown within their local contexts, they also represent those in other geographical areas living under different regimes.
New Cain is a series of large sculptures Çağinli initiated in 2012. In a both grandiloquent and subtle manner, New Cain mocks the cynical use of language and religion in geopolitical power games drawing on the biblical story of Cain and Abel. In 2012, the president of Turkey Tayyip Erdoğan had been propagating effusively positive language about Syria in the national media, referring to the leader of Turkey's neighbour as "our brother" Bashar Al-Assad. Due to the changing geopolitical configuration however, Erdoğan did a volte-face, siding with the US against Asaad. As a result, Turkey directed weapons such as the US Patriot missiles at their "brother" nation.
New Cain I:
New Cain II refers to another tragic change of alliances in the region. Western powers — which so highly praised the Kurdish fighters of Kobane-Rojava, Kurdish northern Iraq and the "Free Syrian Army" who contributed so much to the current defeat ISIS — are now turning their backs on their former "brothers in arms". With the West standing back, Iran, Iraq, Syria and Turkey are all aligned to violently extinguish all Kurdish hopes for freedom and autonomy.
AR-Saari Residence/Saastamoinen Foundation. This AR-Residency programme includes two months at the Kone Foundation's Saari Residence, followed by a one-month stay in Helsinki in co-operation with the Saastamoinen Foundation. Saari Residence is an artist-in-residency centre at a beautiful country estate near Mynamäki on the western coast of Finland. In Helsinki, AR-Residents often are hosted at Hiap or the Eläintarha Villa.
The AR Secretariat is generously funded by Koneen Säätiö – Kone Foundation.