at the Helsinki Art Museum on 30 August
See photos, video and audio of the event.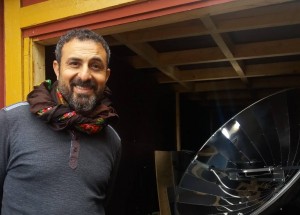 Erkan Özgen is a pioneer of video art from the Kurdish area of Turkey, with a distinguished record of exhibitions and collaborators.
In this Mobile Talk, Özgen presents an overview of his work, ranging from his stark yet playful early pieces to his most recent videos, which address the traumatic experiences of war and dislocation. His works give a human face to the brutal wars which continue to lay to ruin a beautiful and ancient region.
Works to be screened include, among others: Wonderland (2016); Dark in Dark (2013); Breath (2008); Adult Games (2004), Road to Tate Modern (2003).
In co-operation with HAM Helsinki Art Museum.
Erkan Özgen is an Artists at Risk (AR) Resident, hosted in cooperation withHIAP – Helsinki International Artist Programme at AR-Safe Haven Helsinki. The AR-Network is curated by Perpetuum Mobile (PM) and is coordinated by the AR-Secretariat, co-funded by Kone Foundation. This residency is funded by the City of Helsinki.
For Finnish speakers:
– Read the interview with Özgen by Antti Järvi in Helsingin Sanomat
– Listen to Erkan's interview: Kultakuume on the 29th of August at 15:00
BIO / BACKGROUND
Erkan Özgen was born in Derik in Mardin province,Turkey in 1971 and graduated from the Department of Art Education, Cukurova University in 2000. His artistic adventure began in 1998 with a contemporary art exhibition "Young Activities". Since that time he has participated in numerous group exhibitions in many countries including Albania, Croatia, France, Germany, Iran, Italy, Israel, Lebanon, Spain, Sweden, Switzerland, The Netherlands, Turkey, Austria, UK, USA, Austrian,Cyprus, Estoni, Ljubljana and Montenegro. In 2005, Özgen participated in a residency program in the International Artists Studio Program Malmö, Sweden. In the same year he received the "Prix Meuly" from the Kunstmuseum Thun, Switzerland. In recent years, Özgen has been an active member of the "Mesopotamian Ecology Movement", while continuing to develop his unique artistic language.
http://erkan-ozgen.blogspot.gr/
This Mobile Talk is in Turkish with English translation.
Chaired by Perpetuum Mobilε (Marita Muukkonen and Ivor Stodolsky)
Free admission.
Location: HAM Helsinki Art Museum, HAM Hall / HAM Sali.
For further information please contact:
[email protected]
Tel. +358 440 965 103