For Documentation of the Opening please follow this link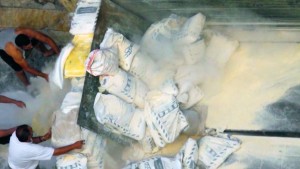 Sanatçılar: Issa Touma (Halep), Erkan Özgen (Diyarbakır), Pınar Öğrenci (İstanbul) ve Chto Delat (St. Petersburg).
Küratörler: Perpetuum Mobilε kurucuları, Marita Muukkonen ve Ivor Stodolsky
TEMİNAT
Güçler devreye girer
bahisler oynanır
faizler artar
ekonomiler çöker
savaşlar başlatılır
faiz düşer
bütün şehirler insanlarıyla birlikte silinir
Teminat mı?
o bahsin dengesidir
kağıt kuleler yıkıldığında haciz konulandır
ordular yola çıktığında
generaller kükrediğinde
Teminatız işte her birimiz
geri döndürülemez güçlerin ellerinde esiriz
köleyiz
sürgünüz
dışlanmışlarız
çocukların fantezilerini yeniden inşa ederken
Savaş ve şiddete farklı şekillerde maruz kalan AR (Artist at Risk) sanatçıları, kendi tanıklıkları üzerinden, göç, savaş ve direniş hikayeleri anlatıyor.
Sergideki işler:
Issa Touma, Floor van der Meulen ve Thomas Vroege ile birlikte, Halep'teki Penceremden 9 Gün, belgesel film, 12'36", 2015. Avrupa Kısa Film ödülü, 2016.
Erkan Özgen, Adult Games, video, 3'55", 2004.
Çocuklar tarafından oynanan 'Adult Games', günümüz dünyasında var olan çatışmalar ve bu topraklarda trajik bir biçimde oynanan oyunlarla ilişki kurmaktadır.
Pınar Öğrenci, A Gentle Breeze Passed Over Us, video, 5'55", 2017.
Ege Denizi'nde hayatını tehlikeye atarak yolculuk eden Bağdatlı genç bir müzisyen, zengin bir kültür dünyasını arkasında bırakır; sular üzerinde yüzen bir 'ud' denize atılmıştır.
Chto Delat, It Hasn't Happened To Us, Yet, Safe Haven. 36'24', video, 2017.
Güvenli Cennet'e kaçan beş sanatçı, günlük, huzur dolu bir yaşama dalmakla, gerçek direniş ve tehlikeye dönmek arasındaki çelişki ile karşı karşıya. Bu hikaye henüz başımıza gelmeyenler hakkında.
Sergideki bütün sanatçılar Perpetuum Mobile ve / ya da Artists at Risk(AR) programı ile çalışmaktadır.
Perpetuum Mobile (PM):
[email protected]
www.perpetualmobile.org
@Artists at Risk (AR):
[email protected]
www.ArtistsatRisk.org
MARSistanbul "Bağımsız Sanat İnisiyatiflerinin Sürdürülebilirliğine Yönelik Destek Fonu 2016–2017" kapsamında SAHA tarafından desteklenmektedir.
MARSistanbul 2010 yılında sanatçı Pınar Öğrenci tarafından kurulmuş bağımsız bir sanat inisifiyatidir.
'Teminat' 15. İstanbul Bienali paralel etkinlikler programı çerçevesinde düzenlenmiştir ve 'Mahalla' Festivali' kapsamındadır.
http://mahalla.inenart.eu/
For more about the AR PAVILION, see
Artists at Risk (AR) is a Perpetuum Mobilization