Co-founder and co-director Perpetuum Mobile (PM) / Artists at Risk (AR)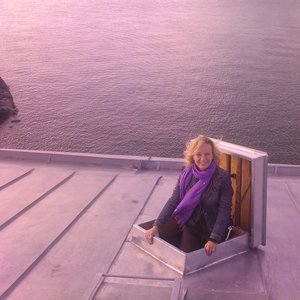 Marita Muukkonen, co-founder and co-director of Perpetuum Mobile (PM) / Artists at Risk (AR) / Ecologists at Risk (ER)  with Ivor Stodolsky She is an internationally active curator based in Helsinki. She has been chairperson of HIAP – The Helsinki International Artists-in-Residence Programme; curator at HIAP; curator at FRAME – Contemporary Art Finland; editor of FRAMEWORK – The Finnish Art Review; and held key functions at NIFCA – The Nordic Institute for Contemporary Art over several years.
Marita Muukkonen has curated and produced exhibitions and projects internationally, including at museums such as MoMA in New York, Moderna Museet in Sweden, Kiasma in Finland and galleries such as Momentum Gallery and Another Vacant Space in Berlin and Bo Bjerggegaard Gallery in Copenhagen. She curates exhibitions and residency programmes in a variety of contexts. She has worked at biennials including The Finnish Pavilion (Venice 2009), The Nordic Pavilion (Venice 2009), the Perpetual Pavilion (Venice 2009), The Arts Assembly (Manifesta, Murcia 2009), The Nordic Pavillion at the Dak'art Biennale (Senegal 2012), the School of the Displaced (Kiev Biennial, 2015), and the Athens Biennial (2015-17). Marita is also a contributor to art journals, catalogues and publications, as well as a regular speaker at international seminars and conferences.
Perpetuum Mobile established the Artists at Risk (AR) platform based on residency work initiated in 2013. Artists at Risk (AR) has created over 19 AR-Safe Haven Residencies in 16 countries since 2013. It was honored with the Civi Europaeo Praemium of the European Parliament, the ArtAct Award and the Thematic State Prize of Finland, and was recently featured on Substance 100.
Perpetuum Mobile (PM), which runs AR, curates further thematic platforms – the AR Pavilion (Athens, Istanbul, Madrid, Berlin, Helsinki), Pluriversity (local), Re-Aligned (10 iterations incl. Kiasma, Tromso, Moscow), Perpetual Romani Pavilion (Venice, Berlin, Moderna Museet), The Arts Assembly (Manifesta, CAFA, Beaux Arts, etc) – with local, biennial and museum events and exhibitions internationally.